Two weeks ago teen blogger extraordinaire Ari lit the internets on fire with her beautifully written, passionate letter to Bloomsbury; but she's been posting thoughtful reviews and ludicrously smart social commentary since the inception of her blog, Reading in Color, in July 2009. By ludicrously smart we mean really, really smart. Oh, and she's funny, too. Knowing that the future is in the hands of this very capable and charming young person pleases us to no end.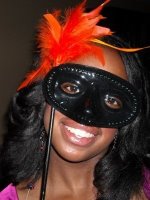 Why did you start Reading in Color? Had you ever blogged before?
I started Reading in Color because I was tired of seeing the same books being reviewed on teen book blogs. Don't get me wrong, the books being reviewed sounded interesting, but they were all about white main characters. I grew frustrated because part of why I started reading book blogs was to find YA recommendations about people of color (POC) and I couldn't find any book blogs that offered that. It was only after starting my blog that I found other resources, like Color Online and the Happy Nappy Bookseller.
I've never blogged before which is painfully clear in my first couple of blog posts. But I think my blog has gotten better and my reviews are becoming more well-written.
You read three books a week, post thorough and thoughtful reviews, correspond with other bloggers, take on the publishing industry, AND you're still in high school. Do you ever get tired? Does your blogging life sometimes take over your "real" life?
I've never seen a list of all my activities but now that I look at it, I think wow. I'm not sure how I do it, I just do what I know needs to be done. To me blogging is like a business, you have to be updated and current and keep your blog relevant and looking fresh. However, it's a business and a job that I wholeheartedly enjoy. I have so much fun writing reviews, emailing other bloggers and authors, and leaving comments. I know that every blogger reaches a burnout at some point in their blogging life, I haven't had mine yet and I hope that I am mature enough to know when to step back and take a break. When I don't feel like writing a review, I post something else so I usually don't get tired of blogging. Blogging takes over my real life only occasionally, sometimes I want to talk about books with my friends, but I stop myself because I would only be met with blank and confused stares. And sometimes I want to talk to my parents about my frustrations with the publishing industry, but they won't really get it or know what book or author I'm talking about.
Any plans to be a writer yourself?
I have zero patience in life to be a writer. I could start a book and write the end but I would not be able to write in the in-between, so no I have no intention of becoming a writer.
Finish the following sentence: In a perfect world, the publishing industry would...
In a perfect world, the publishing industry would publish an equal number of books by and about POC, have more POC in charge, allow authors to have input on the making of their covers, be able to give away as many books as they wanted and still make a profit (not sure how but that's the beauty of imaginary perfect worlds), and e-books would be kaput.
Any advice for old folks on how they can be half as awesome as you?
LOL, just do what the Rejectionist says, under her tutelage I think anyone can be awesome :D*
Seriously, I don't view myself as awesome, just on a mission that I'm passionate about. I do think that adults lose cool/awesome points when they discount the power of teenagers. I HATE being told I can't do something because I'm a teenager, it's ridiculous. But then again, it's helpful because it motivates me to prove that misguided adult wrong and the results usually turn out pretty well.
Some favorite books you've read lately?
Well, I'm currently reading and loving The Last Summer of the Death Warriors by Francisco X. Stork (I LOVED Marcelo in the Real World ).
I also really enjoyed 8th Grade Super Zero by Olugbemisola Rhuday-Perkovich, and The Rock and the River by Kekla Magoon.
And two of my favorite books of all time are Whale Talk by Chris Crutcher and A Wish After Midnight by Zetta Elliott.
*We TOLD you she was smart.