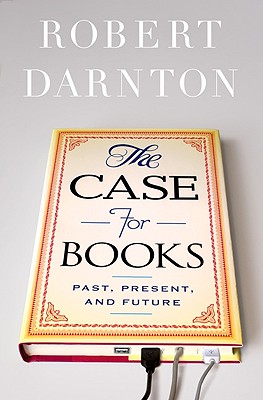 Robert Darnton
The Case for Books
240pp. PublicAffairs.
9781586488260
Robert Darnton! He is the dreamiest! Rhodes Scholar! MacArthur Fellow! Chevalier of the Légion d'Honneur! Champion of the people! There is probably no one else alive on this earth who knows more about the history of the printed book, and very few people who know more about the history of the French Revolution, and you know what Rejectionists like very much? Books! and the French Revolution! (Perhaps you would like to read some of his livres on these topics? Well, he writes them IN FRENCH AND IN ENGLISH. Touché, monsieur.) ANYWAY. The Case for Books (get it? SO PRECIOUS, THAT ROBERT DARNTON) is a collection of a decade's worth of essays published in the New York Review of Books, largely on the history of printed books and their role in the digital age. (You can read his other essays for NYRB here.) Contrary to what you'd think, Darnton is no enemy of the tinterweb; in 2007, as the newly appointed director of Harvard's library, he was thrilled to discover the university was in secret talks with Google to discuss the prospect of digitizing its immense and invaluable holdings. He's a huge proponent of the possibilities the internet can offer scholars in particular, and an enthusiastic advocate for publishing research online; he's also the founder of the Gutenberg-e program, which funded the conversion of exceptional dissertations into high-quality electronic monographs.
But Darnton can't hide his unabashed adoration of the printed book (or, as we say chez Rejectionist, "real books"), and his boundless love for the medium translates into a series of witty, charming, immensely erudite, and often passionate disquisitions on everything from the eighteenth-century adventures of a pirated Voltaire folio to the inner workings of Google's cabal of overlords. The essays weren't revised for the collection, and the first few (all dealing with the Google Books project) tend to repeat themselves; but Darnton's prose is never less than a joy to read. He has a magpie's eye for weird facts and historical details, like the very best sort of history teacher; did you know, for example, that a recent survey of French students found that 43% of them consider the smell of printed books to be of great importance (French e-publisher CaféScribe has responded to this by issuing scented stickers that emit a fusty, bookish order, which one may affix to one's monitor or e-reader)? Or that the philosopher Marshall McLuhan predicted that the electronic age would drive printed books into obscurity… in 1962? Or that the development of microfiche led to a shocking purge of library collections that continues to this day?
Though he's more than willing to embrace the seemingly limitless potential for digital media to promulgate new ideas, Darnton's real argument is that the printed book will never be entirely replaced--and that, ultimately, the printed book is irreplaceable. It's hard, after all, to argue with five centuries of evidence. Funny, lively, unpretentious, and wise, The Case for Books is a collection of delights. Dear Robert Darnton: if you are reading this, we would be awfully excited if you wanted to come over for dinner.