We are a nondenominational person, and do not particularly like holidays that are not our birthday or New Year's; but New York in December is delightful even for Rejectionists. The streets are hung with lovely lights! trees are festooned with decorations! it is tremendously cold and cheery and festive and magical in a way that only New York is magical! Everyone is happy and frolicsome and even the tourists seem sort of charming as they stand about in clumps on the sidewalk, gaping up at glittering shop windows! In honor of this special time, last night we went on a Magical Field Trip with beloved Rejectionist bestie (Rejectionestie? ) Chérie l'Ecrivain to a variety of Legendary New York Holiday Locations, with poor Support Team in tow as our dutiful and uncomplaining photographer, because OBVIOUSLY there is no POINT in behaving like a tourist all over the clusterfuck of Fifth Avenue if one is not going to share the results with one's Author-friends. Enjoy!
Naturellement, one commences a Festive Tour at Rockefeller Plaza, with its fabled Christmas tree (Rejectionist: But we thought it would be bigger Support Team: It's like eight stories tall, how much bigger can it get? Rejectionist: Ten stories?)
Here we are with dear Chérie:
And what is that in the background? you might ask. Surely that is not an entire building façade with falling snowflakes and bubbles (?) projected upon it? OH WAIT IT IS:
In case you couldn't tell:
"Snowflakes & Bubbles." Thanks, guys, we never would have guessed. NEXT STOP THE BERGDORF-GOODMAN HOLIDAY WINDOW DISPLAY which is SO MAGICAL. It slays us every year. We become like a tiny Rejectionistlet, filled with wonder and joy.
PLEASE NOTE THAT THE PTERODACTYL'S WINGS ARE MADE OUT OF THOUSANDS OF TINY QUARTZ CRYSTALS THAT WAS THE PART WHERE OUR FACE MELTED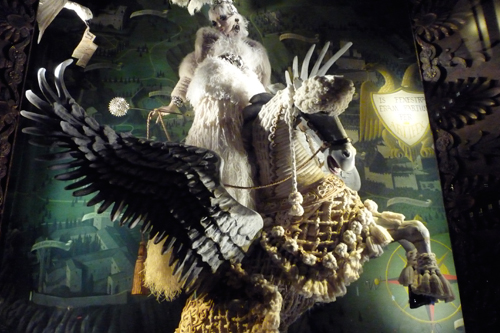 Finally, a stop by FAO Schwartz! Here we are against a twinkling gallery of snowflakes!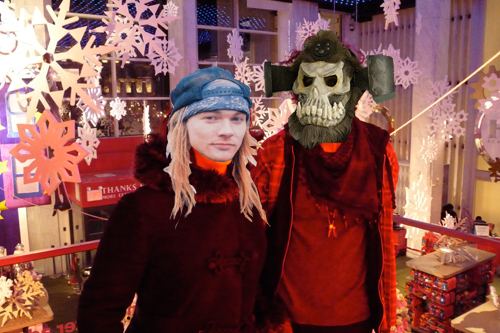 This fairy is so pissed! Look at her! She is all like, "I starred in your lousy paranormal romance, and all I got was this fucking unicorn." Poor fairy!
Here is Chérie with her favorite dinosaur:
IT IS A CHEWBACCA OF LEGOS. !!!!!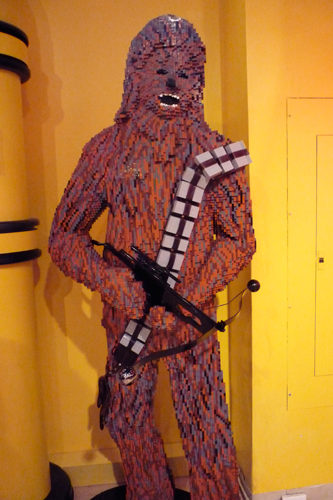 You will note the family resemblance!
Then we drank hot chocolates and planned the People's Revolution, starting with knocking over De Beers. Huzzah!