The Rejectionist capitalized on the extreme inability of the publishing industry to accomplish any tasks in the last two weeks of December by fleeing New York for gentler environs! To wit: a restful, nostalgia-laden jaunt to our birthplace, a part of the world that more or less fell into total obscurity after the heyday of grunge. Until, you know, THAT BOOK. Vampires notwithstanding, we had a very nice time frolicking around the Peninsula with Support Team and engaging in the traditional activities of our people, including but not limited to driving around in a giant pickup truck listening to 50 Cent and eating Frugal Burger.
No trip home would be complete without a day in Seattle! For some reason whenever people not from Seattle come to Seattle they want to ride the ferry back and forth all day, which is sort of like riding the F train endlessly between Brooklyn and Manhattan for recreational purposes, but if it makes you happy? Go ahead? Anyway, for those people, here is a photo we took on the ferry.
Here we are outside the Utilikilt store, shortly before throwing a pipe bomb through the window and eradicating this monstrosity from the face of the earth forever.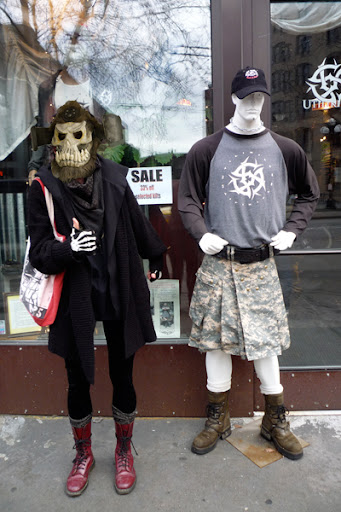 The Pike Place Market! It's like the most Seattle place EVER. Don't buy your fish from the fish-throwing gentlemen, says le R. Père, fishes expert. It makes them mushy. There is a different, non-fish-throwing stall just down the street. Purchase your anarchist treatises at Left Bank Books and don't forget to rummage around in the little shops below the market, which are filled with many treasures.
OH BAUHAUS. We used to come here and sit around smoking cloves (SORRY MOM) and being Arty as a wee moppet. That gentleman in the yellow slicker has seriously been sitting there since 1996.
Conveniently coinciding with our Vacation: THE BATTLESTAR GALACTICA EXHIBIT AT THE EXPERIENCE MUSIC PROJECT. OMG.
LOOK IT'S THE PRESIDENT'S GLASSES:
LOOK IT'S STARBUCK'S DOG TAGS:
Then we went downstairs and HOLY FUCK JUST, YOU KNOW, THE DEATH STAR, HANGING OUT:
Tomorrow: VAMPIRES. Also, GIANT TREES.